Tour Wrap-Up Pt.2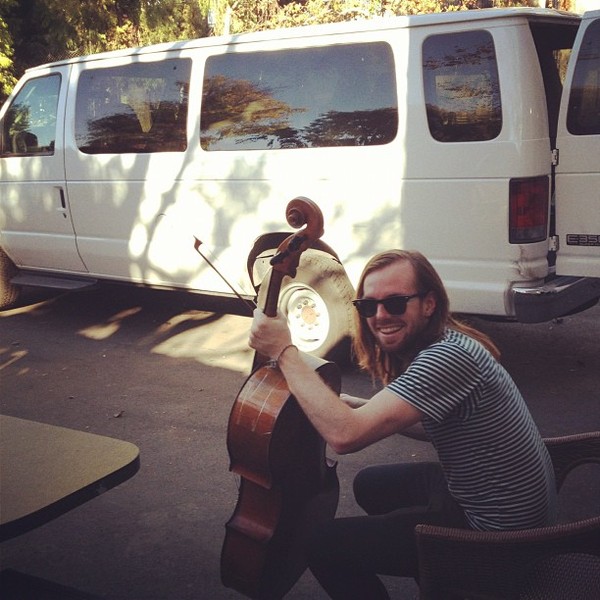 Nashville was the hottest show by far. I've never sweat like that in my life, and the Freelance Whales said that was our best show of the whole tour. I gotta say, there's nothing like that San Francisco reception. We came out with guns blazing, and they were with us from the beginning. God bless you, San Francisco. What a home.
We finally made it to the Bluebird in Denver, where we got snowed out of our show with Stars back in 2010. It snowed this time too, but not much, and the weather didn't stop us this time.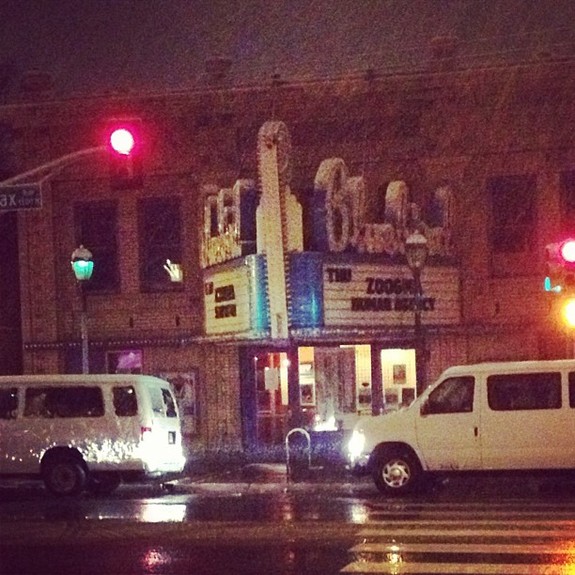 It did catch up with us though in NY. The hurricane hit a few days before we were scheduled to play in lower Manhattan, and the venue flooded and lost power. We convinced them to postpone the show rather than cancel it, and we hung around in NJ for a few days waiting for NY to get back up and running. We just happened to reschedule the show for the night a noreaster hit Manhattan, as if they hadn't been through enough with the Hurricane. It seemed that the gods were against Geographer playing in NY, but we did it anyway. The venue still didn't have heat, there was a half foot of snow on the ground, and our gear was a little fried, but we made the most of that one. I haven't had to work that hard on stage in a long time, but we've only played NY a handful of times, so we wouldn't have missed that one. We were happy that some proceeds from the show could be donated to hurricane relief.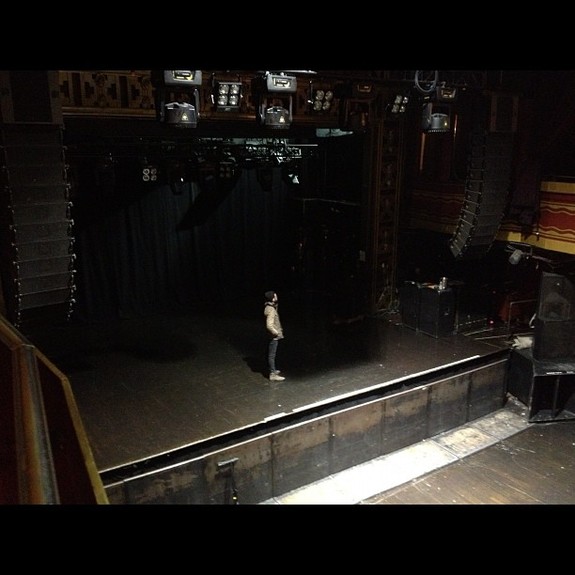 A lot of times when the gear fails you're forced to rely on other things, and that can lead to some exciting moments. My vocal looper wasn't working, I finally realized about halfway through the show. Every time I hit a button on it, the whole song wouldn't freeze up, so when we started Original Sin I said, "I'm not gonna touch that thing. But what am I going to do instead of looping my voice and chopping it up," which is one of my favorite parts of the whole show. Instead I used my real voice live like a looper and got lost at the front of the stage. I was pretty excited after that. Reminded me of the old days playing blues and jazz and soloing.
After that it was a long four days' drive back across the country. We stopped off with some friends along the way, but that's a hell of a drive, after all that. In Nebraska it was about midnight and we were ready to find a motel. The fog was so thick on the sides of the road you couldn't see more than a few feet. But the road itself was perfectly clear. It was the eeriest thing I ever saw. It was like being on a boat in the ocean. We pulled into this town and we could barely see what it looked like until the next morning (which was a good thing cause it was kind of scary).
When we hit California we let out some whoops and hollers. It was great to be back home, and there was a foot of snow on the ground through Donner Pass. I took a little walk into the woods at a rest stop, which was surprisingly beautiful. Just like walking around in the middle of nowhere, I couldn't even see the road, just mountains.
Had a good night's sleep that night back at home, but to be honest we wished we had another show. Thanks to everybody we met, everybody who came out to the shows, and most of all our crew for making it such a fulfilling and memorable tour. Can't wait to do it again.
- Mike