2013 - Year In Review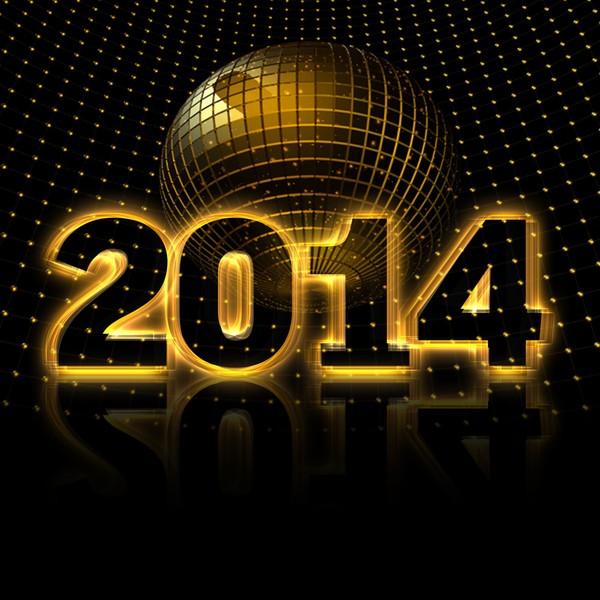 2013 has come and gone. It was a big year for Geographer, a big year for me as a person, as an artist. I learned a lot about performing, about people, about music. I still don't really listen to that much new music. It really takes a standout to hit me hard. I gravitate towards classics from the 60s and 70s. I still feel I have so much to learn from them. New music gets me excited, gets me out of my seat and over to the keyboard. But old music is a teacher. A lot of people do Best of 2013 lists, but I can't really do that, since…well. But I can tell you the best things I listened to, watched, went to, did, in 2013, regardless of when they were put out themselves.
Albums that I listened to constantly:
Born to Run. I watched a documentary on the making of it, and it really turned the fire up on the album for me. to realize that it wasn't just capturing a great band and a great man doing their thing, that it was painstaking, meticulous often to a fault, overdubs upon overdubs, worrying over every sound, every guitar tone, every draw bar on each organ sound. that's how I make records, and I had always thought it was faulty. Like we've lost something of the "live" in recording. But the recording process has always been a process of illusions. How can you create the impression of a live, spontaneous creation, sprung form genius, not hard work. But to do that it often requires tremendous energy, revision, exasperation. To see Bruce Springsteen looking totally downtrodden, lost, wasted, trying desperately for one last shot at the bullseye before, essentially, Columbia dropped him as an artist. That's very far from the smiling, exuberant shaggy-cherub-rock-god-regular-guy we've all grown to know and love. Your heroes are people. You're a person. It's a wild thought.
Paul Simon's Paul Simon. I come back to this record again and again. For its simplicity and beauty. This record, Cat Stevens' Greatest Hits, CSN and Déjà vu, get me through the long drives on tour. OK Computer, Graceland, Kid A, Kate Bush's The Dreaming. These are the REALLY big guns. Late night, gotta push through kind of material. Your mind will never go cold listening to these. Especially Kate Bush. The music is so strange, As rich and bizarre and frankly disconcerting as a jungle. Not so good for an idle listen, but it keeps you engaged, like she's leading you through a fun house, and you turn to the right when you hear a scream, and there's a hallways that leads to a room and there's a whole world there, but you only look for a second, continue on the path she's leading you down. Tributaries. That's what makes good art. Pop singles like "Wrecking Ball" are not horrifying. They pull your heart strings, they make you feel. But they are one dimensional, 2 sometimes. They have one message, one trajectory, one function. Go straight for that thing in people that's sleeping and give it an adrenalin shot then vanish as quickly as it came on. And it leaves you standing alone and wide awake in the dark. Which is a completely shitty feeling. That's why we feel empty when we see a blockbuster or listen to a teeny pop song. But a real, lasting pop song, a Beatles song or a Paul Simon song (Sounds of Silence was a number one hit!), they have tributaries. They have other things floating in the river as you drift by. You don't latch onto them, but you know they're there. It's the illusion of fullness, of a whole world inside the song. And Paul Simon has that ability. With America he is able to create a whole character, a whole relationship through just a few words: "Cathy I'm lost I said, though I knew she was sleeping." Holy. Shit. That's everything you need to know about that couple, about that man. He's as real as you are. More vivid than you are.
A few movies captured my attention viciously. The Master and Tree of Life, and The Gambler. The Master is the only movie I watched again immediately after finishing it. I've always thrown movies away after watching them once, thinking that the experience is dependent upon surprise. Which was definitely true for The Master. But what was lost in the story was gained in appreciating the acting. In my opinion, Joaquin Phoenix dwarfed Phillip Seymour Hoffman. His gnarled looks, his wild, animal movements. I've never seen anything like it. He WAS Freddy Quell. And the idea in the movie that we are all animals, trying to suppress our urges, looking desperately for a master who is more just than randomness, than fate. Freddy wants to fall in line. But for all his faults the one thing he cannot be is dishonest. And Lancaster Dodd knows that that is the very thing he MUST be if he is to cope with existence. But Freddy can't do it. He has to get drunk on paint thinner concoctions, he has to drift with the wind, like a boat marooned on the sea, with it's sails still up. It's the most honest way to live. No walk in the park of course, but honest. The image that captivated me most was the way P. T. Anderson shot the ocean, churning behind a ship. The whole of the ocean is a roiling mass that we stare into but can't see through. But we get a sense that beneath it lies an entire world, full of monsters, beauties beyond compare, dangers, secrets. But on the surface it all looks the same, from here to China. If only we could get INTO it. But that image also represented to me the roiling insides of people. That outside we are placid, we keep up appearances, we try to fit in, Like Lancaster Dodd, but inside we are wild like Freddy, as deep and profound and turbulent as the bottom of the ocean. How do we reconcile these two sides of ourselves? So that's what was keeping me up sweating late into the night watching the Master over and over again. Thank you P. T. Anderson.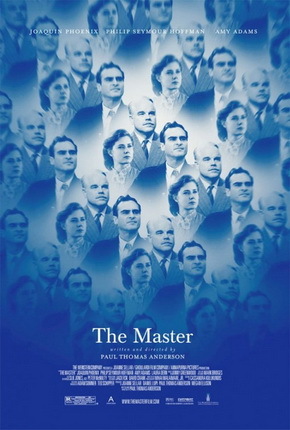 The Tree of Life is equally as beautiful but in a very different way. I'll say less about it cause I just went off there. To me, it is the only piece of art I have ever seen that attempted to say "what is life," and actually got really damn close. It is, simply, life, a depiction of existence. The wild, baffling, inner life coupled with the outer experience of the universe and creation, the forever impossible to comprehend fact, the mere fact, that we are here at all. And you transition from that universe to the inner thoughts of a young boy as he begins to grow through puberty. But not the overt sexual angst that is usually explored. Or rather, it is, but in The Tree of Life it is done with a gentle touch. The stealing of a woman's dress and the shame of it. But it's the large strokes, the father, the mother, the child, that penetrated me so completely, that I am so in awe of. I heard that Terrance Malick had a film crew at Fun Fun Fun Fest. But I don't know if we'll be in the movie. How wild would that be.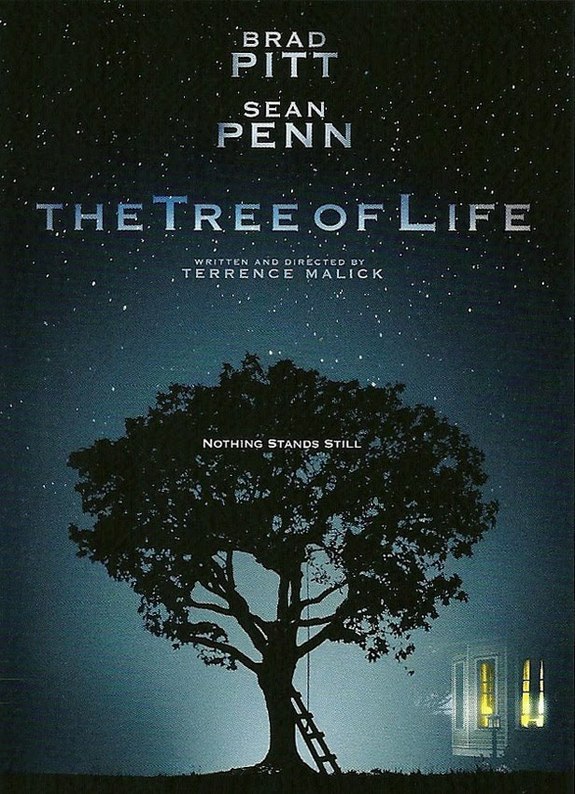 Let's get to the shows. This year marked our first headlining tour of the US And it was almost completely sold out. What an amazing feeling. To be working away at home, and then you check in with America to see if they like what you've been up to, and there's lines out the door at every show, wild crowds. When we played the Getty we were more exhausted from signing t-shirts and CDs afterwards than we were from the actual performance. That was a beautiful show. A night in LA at one of the best designed museums in the world, playing to thousands of people. Magic.
This was also the year of the crowd surf. Every time I play a show, I want so much to connect with the crowd. But it can be really hard. You're standing there behind a ton of gear, doing your best to pull off your songs, and the audience is so separate from you. So I spent a lot of time figuring out how to break down that wall between us. And eventually I just started jumping over it. There's nothing like launching your body at a mass of hundreds of people, thousands of people. Each one was a different ride. I think I only got dropped once, but they picked me right up again. It's just such a release of energy, and for me, you never know what's going to happen, and that's very exciting, especially since we run our tours tight. Very little room for error. And to step out of that controlled chaos into actual chaos is a great ride.
Another memorable show was in Austin, at the Mohawk. They didn't really know what we could do in Austin, so we didn't get booked for ACL on our previous tour, and they put us in the small indoor stage at the Mohawk, maybe 150 people. But the show sold out so fast they put us outside, and then that one sold out too! We couldn't believe it. We always had great shows in Austin, but they were always other people's shows, not ours, so there was no way to gauge just how much of that love was for us. It was so exciting to pull into town and realize that there were at least 1,000 people there who couldn't wait to see a Geographer show. So we put everything we had and then some into that one.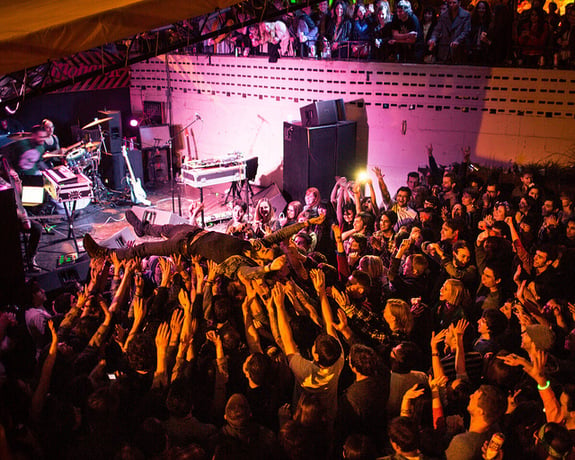 It wasn't a great book year for me. I read a couple biographies, which were great, but I'm really a fiction person. But towards the end of the year, I picked up The Naked and The Dead, which I'm still reading and is just amazing me. It turns the army into a soap opera of the mind. Everything that's said to an individual is mulled over and churned and colored by the particulars of their mind, whoever it is. Whether it's the genius General, the disaffected rich guy, the dim-witted private. Everyone has their own thought machine, and it's so powerful against the backdrop of such terror and destruction. Life doesn't stop for a war, and the war doesn't stop for life. It's an intense book, but worth the read. Not what I expected from America's most notorious writer.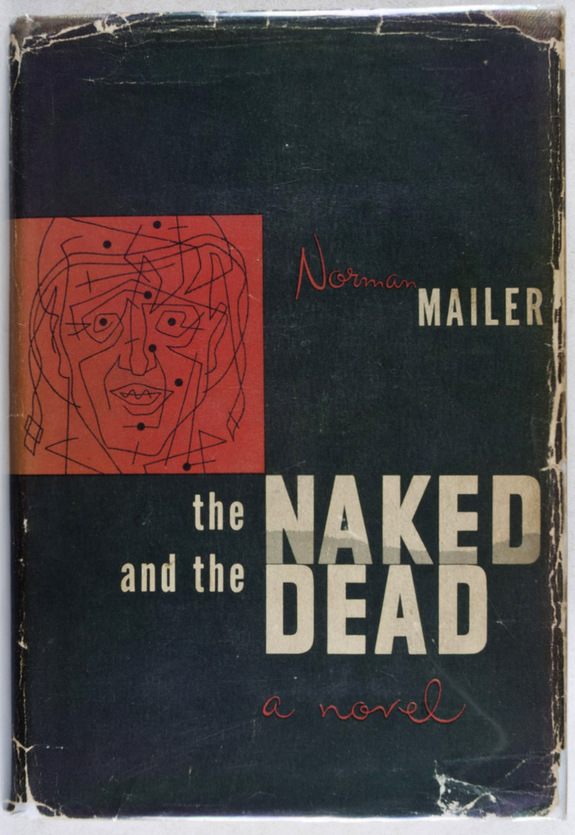 It's Always Sunny in Philadelphia continues to be a masterpiece, San Francisco is still beautiful, Mission Chinese is still my favorite restaurant, and I'm still writing new music. 2013 was amazing. But 2014 is going to be the year. Very exciting things are under way, we can't wait to share them with you. See you in the stratosphere.
-Mike