Interview - Trumaker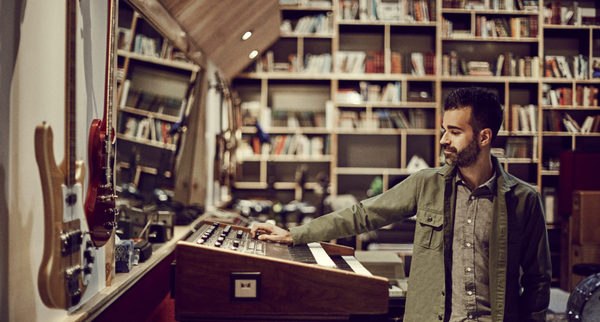 Trumaker's Measure of a Man series features stories about real guys who embody our ethos—net creators and risk takers who define their own success and what it means to be a better man. In this edition: Mike Deni of Geographer.
We were lucky to convince Mike Deni to play a solo show at Trumaker's San Francisco office in October 2015. We were celebrating the launch of our new line of suits and opening of our first retail lounges. It was a momentous evening for the company, but easily the most memorable part was the incredible music. After the show, Mike hung out for a while and we learned what a genuinely good guy he is. In addition to being a friend for the past several years, he's become an (official) ambassador for the brand.
History
Mike's always had a talent and love for music. He was one of those awkward, introspective kids, a self-professed dork, who never felt like he fit in. That is, until he was playing or performing music.
"I was funny and I was good at music, but other than that, there wasn't a lot you would want to meet in high school."
Even so, a musical career didn't really occur to him. In his family, everyone's expected to go to college, and he did, graduating from Middlebury in the early 2000s. He majored in English and planned to be a novelist. One problem:
"Turns out I was really bad at that. I wrote a couple novels in college. I just don't understand character arc and some very important things about writing. So, I was like, 'What are you good at?' You're actually good at music. I'd been playing in bands my whole life but I didn't think it was something I could do professionally. Ultimately I said, 'Well, I want to be a musician, for real.'"
That decision took him to Boston where he joined a band, playing saxaphone at clubs around town. "I didn't like the music but at least I was playing."
It was personal tragedy that really transformed his musical journey, starting him on the path to what would ultimately become Geographer. In 2004, Mike's sister suffered a catastrophic health event. His whole family moved in to the hospital to be with her full time, but after a gut-wrenching month, she passed away.
"Basically, my family's never recovered. After that, it was like, 'what do we do now.' I had this dream of music that I know she very much supported, but it was hard to continue doing anything after that happened."
So, as one does, he moved home and lived in his mom's basement.
"It was a rough period for both of us."
But something changed in his music. He was writing more, and for the first time ever he believed it was actually…good.
"It's very easy to write songs when you have a good reason to write them and coping with traumatic events is a great catalyst for creativity. Something clicked there and I wrote my first couple songs that were actually passable, according to me."
Around that time, some friends encouraged him to join them in San Francisco. The rest, as they say, is history. But that history didn't write itself.
What it takes to succeed, what it means
If the first major step was deciding that a career in music was possible, the second was deciding to do whatever it took to succeed. And that meant living through a lot of humiliation, and being willing to do the work to get better.
Through ups and downs in the early days, the willingness was always there:
"I would put flyers out. Just walking around every neighborhood posting flyers, being like, 'Hey, can I put a flyer in your window?' Walking through Dolores Park giving strangers fliers. I'd say to friends, 'Hey, come to my show.' And they're like, 'No!' That's humiliating to me, but I don't care. It doesn't matter. I'll lose all my troops as long as we get that hill."
"I wanted it so intensely. That's the difference between me and the people who don't make it."
Advice givers often say to follow your passion. But the better lesson may be to find a career path where you're willing to tolerate the pain and sacrifice that comes with it.
"It became clear very early on it was going to go that way and if you wanted anything you were going to have to get it yourself. People who don't have that quality and can't put up with humiliation, I think they can't last in the arts. That really does a number on your psyche if you let it."
Little by little, minor victories accumulated and built into something real.
"I played the Rickshaw (a bar in San Francisco) to release the 7-inch recording and it sold out. That's like 350 people, which is crazy when you're starting out and you're begging all your friends to come so there's just someone in the room."
"Later, the first tour that I ever did was almost completely sold out and that was the greatest feeling. Driving from LA to Seattle and hearing the Seattle show is sold out. You're like, 'What? Why?'"
As success and momentum has built, Deni's stayed true to his original goal: to contribute to society in the best way he can, and to touch as many lives as possible.
"I want to write music that is so good, it reaches as many human beings as possible, which is quite a feat when you think about how different people are. There's a magic in that and I want to create that. I selfishly want to be the harbinger of that magic. It just so happens that lines up with monetary success."
"For me, the mark of success is how many bodies are at your show and how they are responding to it. Do they care? Is this something that means something to people? And I hear stories from people about, 'Oh my god, I've been listening to your album for weeks' or, 'This song gets me through,' I'm always shocked at that, because I forget."
On what it means to be a better man
Getting to know Mike is a lot like listening to his music. You can sense his honesty and openness. He's acutely aware of what he and the people around him are feeling. And you can sense just how serious and dedicated he is to his craft.
"I value people who are really part of a community or who think outside themselves, or are very sympathetic and empathetic. People who don't get caught up in their own insecurities and just forge ahead courageously. I think people like seeing you spread your wings. I think they find that inspiring."
Specifically about being a good man, you can almost hear High School-age Mike striving to be heard above the typical winners of the popularity contest.
"(Being a good man is), I think, fighting against a lot of the traditional tropes of manhood. Being too strong willed so you can't see reality, not being gentle. I think gentleness is a very important quality. We're not on the schoolyard anymore. A person who can avoid a fight is so much more impressive to me than someone who could beat up everybody in the room."
"People who are generous, strong in their sense of self, who won't give in when it's not right to, but who will consider and measure other viewpoints and possibilities, but who are strong enough in themselves to know what's right and what to do."
Read more about music, his quest to write the perfect pop song, being Justin Bieber fan, and his life journey here.